Interdisciplinary festivals
Zoé Leme Aubril - 03 Aug 2023
If you have too many passions and don't know which festival to attend, don't worry. We've put together a collection of some noteworthy interdisciplinary festivals for you to explore. You won't have to choose just one category.
17 Aug - 03 Sep 2023 | Helsinki, Finland
The Helsinki Festival is the largest annual multidisciplinary arts festival and benchmark arts event in the Nordic-baltic region. With its innovative international programming, the festival sees its task as creating a celebration of the arts through a broad range of arts disciplines and event types. The Helsinki Festival is taking place annually at the end of August, hosts hundreds of artists from all over the globe, and receives up to 200.000 visitors.
The festival aims to make art accessible for all. The programme features classical and world music, theatre, dance, circus and visual arts as well as a range of urban events. Helsinki Festival operates under the auspices of the Helsinki Events Foundation, established by the City of Helsinki. The executive body of the foundation is its Board. Members of the Board are elected by the Helsinki City Board to serve a two-year term.
Huvilanranta, Helsinki Festival is a large festival centre open to the public. There will be a varied free programme, including themed club nights, acoustic gigs, children's activities and pop-up events. You can find the free events of the programme here.
Find the entire programme and take your tickets here.
Picture: FestivalFinder.eu
21 July - 28 Aug 2023 | Gümüşlük, Turkey
Gümüşlük, a seaside village and fishing port in Turkey, is situated on the remains of the ancient city of Myndos. The Gümüşlük Music Festival has run uninterrupted since 2004. This year we are presenting the 20th edition. The festival has at its core an education/workshop program that supports up to 100 young talented musicians each year since 2006.
Over 900 artists from 33 different countries have taken part in the festival. The festival presents a range of events including music, dance, circus arts, exhibitions, artist residencies, masterclasses and theatre to bring audiences from different backgrounds together.
The festival lasts for a period of six weeks in July and August each year. The festival has three main venues; The extraordinary Ancient Stone Quarry of Koyunbaba, where the main concerts take place; the Festival Centre located on the beach in Gümüşlük village, home to jazz concerts, artist residencies and our education programmes; and Aktur 'Zefirya Cultural Centre' in Bitez.
On average each year the festival program comprises 15 main concerts, 5 Gümüşlük Festival Academy masterclass periods and concerts; and 4 'Green Life Gümüşlük' educational programmes.
Picture: International Gümüşlük Music Festival Facebook page
7 Jul 2023 - 09 Sep 2023 | Olomouc, Czechia
The Olomouc Baroque Festival has been presenting the beauty of classical music for 10 years! Even in times of crisis, be it pandemic, economic or war, the festival continues its activities and will continue to present you with gems of musical history.
The uniqueness of the Olomouc Baroque Festival lies in the presentation not only of forgotten works by Czech and foreign composers but also in the presentation of well-known compositions in a historically informed interpretation. This year's anniversary year will be a celebration of the beauty of the art of tones - music. We will introduce you to the top musicians in their fields who will come to the festival from all over Europe.
During the festival, you can hear works from the Baroque period to early Romanticism performed by leading ensembles focusing on historically informed interpretations of classical music. You can therefore visit concerts of famous ensembles such as Musica figuralis, Societas Incognitorum, Musica Florea, Arte dei Suonatori and others.

Pictures: Olomouc Baroque Festival website
02 Aug 2023 - 27 Aug 2023 | Oulu, Finland
Oulu August Festivals fills Oulu and its surroundings with culture and arts in August. It is a network of six festivals and a group of smaller productions. The members of Oulu August Festivals are Elojazz, Oulunsalo Soi Chamber Music Festival, Literary Art Festival Muusajuhlat, Oulu Arts Night, Oulu Music Video Festival, Air Guitar World Championships and Flow Productions. In August, the members organize well-established, high-quality cultural events.
Indeed the festival offers events, such as macro concerts, Oulu August Festivals Presents event series (rotating every other year), Choir Day and silent films. A month-long celebration of culture features hundreds of events ranging from music and cinema to literature and performance arts. Whether you are a friend of music, dance, or pop culture, Oulu August Festivals has it all.
Oulu August Festivals attracts approximately 60,000 visitors annually.
Picture: Oulu August Festivals News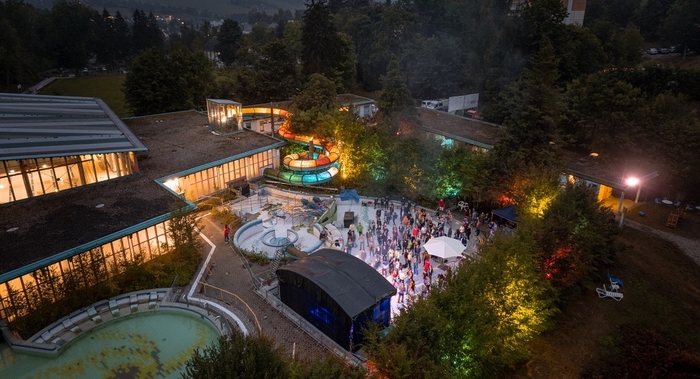 17 - 27 Aug 2023 | Palais Lichtenstein/Sachsen, Germany
The Begehungen e.V. organises the internationally-oriented art festival Begehungen every year in August. The festival has been held in Chemnitz since 2003. Its trademark is an unconventional and low-threshold approach to art. For this reason, the Begehungen are not just a temporary art exhibition; they are a social meeting place for people of the most diverse backgrounds.
An extensive festival programme consisting of lectures, readings and concerts is also an essential part of the festival. The Begehungen festival sees themselves as an inclusive and barrier-free festival. The title "et cetera pp" formulates the thematic framework of the festival. Artists were asked this year to submit works on the subject of collecting or dealing with the history of the house.
Display cases, object descriptions, bases, lighting and monitors - everything is still in its place. What is missing are the exhibits. From August 17 to 27, 2023, the Begehungen art festival invites you to rediscover these abandoned rooms in Palais Lichtenstein/Sa., the former Daetz-Centrum.
Discover more about their programme on their facebook page.
Picture: Begehungen Festival Facebook page